Energy&reg Speakers Completely Overhauls its Web Site
New site looks edgy, incorporates improved navigation for quick and easy home audio research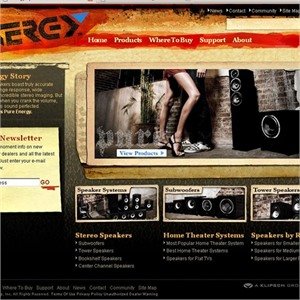 INDIANAPOLIS, IN (August 25, 2008)—Energy®, a Canadian-based manufacturer of home audio speakers, has completely redesigned its energy-speakers.com web site. Sporting a bold new look and implementing several user-friendly features and media tools, this latest online destination makes researching high-performance sound fun and easier than ever.

According to Jill Escol, marketing manager for Energy, the web site accurately reflects—and reinforces—Energy's brand appeal, which is all about pure, accurate sound. "With its cool graphics and lifestyle photography, the new site does a great job of displaying our products—and, it allows visitors to visually experience "Pure Energy"."
"You'll find that the site's design is aimed toward young, active consumers, displaying an edgy, alternative appearance, with plenty of elements that appeal to the target demographic," said Nick Simulia, vice president of marketing for Klipsch Group, Inc. "And, for the comparison shopper, we've made research simpler."
Available in both English and French languages, energy-speakers.com features highly detailed product description pages, including technical specifications, related systems and other compatible Energy products. The accompanying photos can be both expanded and downloaded. A product comparison tool lets users simultaneously view specs for several different speaker models. Additionally, thumbnail views are available for quick review of all the Energy speaker lines.
A comprehensive "Where to Buy" section lets online visitors quickly and easily find the nearest Energy retailer or authorized dealer in their area. "Once consumers have made their Energy selections, we want them to immediately know when and where they can get their hands on our powerful sound," said Simulia. "Plus, with our dealer locator, consumers can rest assured that they are purchasing from an authorized Energy partner, who will honor warranty terms."
Media will also benefit from this new site as it offers a comprehensive news center and corporate pages that contain the latest information about Energy and its products, press releases and a complete gallery with downloadable high-resolution photos.
"Our goal was to make the site as friendly to the media as to our consumers," concluded Simulia. "Everything Energy, including the company history, milestones, images and other useful tools, can all easily be accessed through the news center and "about" pages."
In addition to the new web site, Energy is also launching several new speakers this fall, including the RC-Micro 5.1 home theater system—the smallest setup the brand has ever made—two uniquely powerful ESW mini subwoofers, as well as a complete refresh of its Connoisseur Series.
About Energy®
Established in 1973, Energy has long been a leader in audio research and development as well as in the engineering and manufacturing of speakers. By incorporating custom components and exclusive technologies in each of its designs, Energy takes a nonconformist attitude, delivering no-compromise, high-value speakers packed with pure performance. Energy is owned by Indianapolis, Indiana-based Klipsch Group, Inc., a wholly-owned subsidiary of Audiovox Corporation (NASDAQ: VOXX). To learn more about Energy, visit www.energy-speakers.com.