Energy® ESW-M6 Mini Subwoofer Scores Massive Attention
Product named International CES Innovations 2009 Design and Engineering awards honoree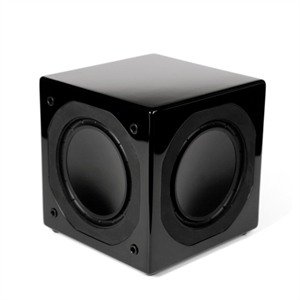 INDIANAPOLIS, IN (November 14, 2008) — As part of the International CES Innovations 2009 Design and Engineering Awards program, the Consumer Electronics Association (CEA)® and Industrial Designers Society of America (IDSA) recently recognized the Energy® ESW-M6 mini subwoofer as being among the best designed and engineered products for 2009.
As a 2009 Innovations honoree in the home theater speakers category, the ESW-M6 was selected for this prestigious accolade by a preeminent panel of independent industrial designers, engineers and trade journalists. Evaluating products in 34 consumer electronics categories, the judges based their decisions on the following criteria: engineering qualities, aesthetic and design qualities, user value and novel features.
An 8-inch cube, the ESW-M6 is a high-output design that features a 6.5-inch black anodized aluminum cone woofer and dual 6.5-inch passive radiators. These light, rigid cones provide tight bass response and dissipate both driver and amplifier heat. Much of the added performance comes from Energy's Ribbed Elliptical Surrounds. This technology allows the drivers to perform with lower distortion and greater output, compared to the traditional half-roll surrounds that most subwoofers offer. The subwoofer also utilizes a new, efficient digital amplifier rated at 800 watts. A proprietary protection circuit prevents overdriving, which can cause distortion.

According to Energy product manager Ben Burko, the ESW-M6's small size is deceptive: "Even with the incredibly compact size of the woofers and passive radiators, the deep bass sound from this sub is comparable to much larger units. Plus, it provides placement options that we've never offered before."
The furniture-grade high gloss black finish on the MDF cabinet comes from seven layers of polyurethane, each hand-sanded to achieve exceptional shine and durability. As a result, this subwoofer gives owners the option of placing them discreetly away from view, or proudly displaying their quality craftsmanship.
The ESW-M6 also features line and sub inputs and a 50Hz–200Hz variable low-pass filter with bypass mode. A 0 to 360-degree variable phase control lets you integrate the subwoofer with other speakers. The "auto power" feature turns the subwoofer on or off automatically, based on the presence of bass signals in the soundtrack.
Available through select specialty retail outlets, the ESW-M6 carries a U.S. MSRP of $600 each.
The Energy ESW-M6 subwoofer will be on display at the 2009 International CES, which runs January 8 through the 11, in Las Vegas, Nevada. The Innovations Design and Engineering Showcase will feature honorees, by product category, at the Sands Expo and Convention Center/The Venetian, booth #72062.
About Energy®
Established in 1973, Energy has long been a leader in audio research and development as well as in the engineering and manufacturing of speakers. By incorporating custom components and exclusive technologies in each of its designs, Energy takes a nonconformist attitude, delivering no-compromise, high-value speakers packed with pure performance. Energy is owned by Indianapolis, Indiana-based Klipsch Group, Inc., a wholly-owned subsidiary of Audiovox Corporation (NASDAQ: VOXX). To learn more about Energy, visit www.energy-speakers.com.