Energy® Debuts Brand's First Soundbar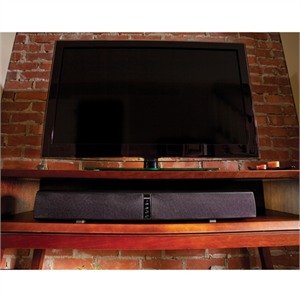 INDIANAPOLIS (September 8, 2011) — Energy, a Klipsch Group, Inc. brand and industry leader in audio engineering and development, announces today the introduction of the Energy Power™ Bar, the brand's first-ever soundbar. Featuring Energy's proprietary Convergent Source Module (CSM) technology, the slim yet powerful soundbar delivers nothing but musical truth.

Known for their sonic accuracy and dramatic spatial reproduction of the live concert performance, the Energy Power Bar enters the prestigious speaker lineup and helps diversify the brand's product offering for added audio solutions. Featuring a world-class design and innovative audio technologies, the soundbar stays true to Energy sound principles and presents unrivaled flat on-axis frequency response and minimal levels of distortion and resonance.

Included with the Energy Power Bar is a powerful eight-inch subwoofer with a down-firing fiber composite cone and ported enclosure for precise, room-filling bass performance. Available in a matte black finish, the compact subwoofer seamlessly integrates into any living environment. It can also be easily setup to be controlled with many existing television remote controls. The soundbar also comes with a 1.5m optical cable, rubber feet and wall mounting template.

The two-way soundbar houses two soft-domed tweeters and two 3-inch drivers for clear, distortion-free sound reproductions. Its woofers employ Ribbed Elliptical Surround that works to deliver tight and powerful distortion-free low-frequency response. Unique to Energy speakers, the CSM technology places tweeters and mid-woofers in close proximity to act as a single source for coherent, seamless dispersion. The speaker effectively disappears, sonically. Available in satin-black finish, the Energy Power Bar exudes a contemporary look and is the perfect companion for high-definition picture and a necessary substitute for underwhelming flat-screen speakers.

"The new Energy Power Bar sets the precedent for where we intend to take the brand as a whole," said Tommy Jacobs, director of customer development for Energy. "As televisions become thinner and listening preferences continue to change, it is important we bring innovative products to the table – such as this soundbar – in order to accommodate all listeners with the clearest, most honest sound."

The Energy Power Bar will retail for $399.99 (U.S. MSRP) and be available through authorized Energy retailers in fall 2011.

About Energy®
Established in 1973, Energy has long been a leader in audio research and development as well as in the engineering and manufacturing of speakers. By incorporating custom components and exclusive technologies in each of its designs, Energy takes a nonconformist attitude, delivering no-compromise, high-value speakers packed with pure performance. Energy is owned by Indianapolis, Indiana-based Klipsch Group, Inc., a wholly-owned subsidiary of Audiovox Corporation (NASDAQ: VOXX). To learn more about Energy, visit www.energy-speakers.com.