Energy® Take Classic Sounds Bigger Than it Looks
Compact 5.1 home theater system designed to deliver amazing sound at affordable price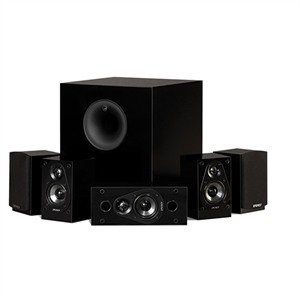 INDIANAPOLIS, IN (May 13, 2010) — When Energy set out to design its Take Classic, the goal was to combine elegant style, compact dimensions and immense sound into an affordable 5.1 surround sound package. The speaker brand, owned by Klipsch Group, Inc., obviously hit the mark when the system earned a prominent Editors' Choice Award for its "excellent sound quality at an almost unbelievably affordable price tag."

"We wanted the Take Classic to build on the success of our Take 5, a speaker system that was introduced in 1997 and won over 20 awards in a three-year time span," said Mark Casavant, vice president of product development for Klipsch Group, Inc. "What's great is that the Classic offers improved features, while costing $200 less than the Take 5 did over a decade ago."

Consisting of four matching satellites that serve as dynamic front and surround channels, a center channel speaker for crisp dialogue, and a powerful subwoofer for amazing bass response, the Take Classic features a high-gloss black finish—so it looks as good as it sounds.

Standing less than 7 inches high and weighing less than 3 pounds, each magnetically-shielded satellite is a bass-reflex design with a rear-firing port. All four of these speakers utilize a proprietary Convergent Source Module (CSM) with a 3-inch poly-titanium woofer and a .75-inch hyperbolic aluminum-dome tweeter for a dynamic frequency range and expansive soundstage.

Energy's CSM technology, which was originally developed for its flagship Veritas Series, positions the midrange and tweeter in close proximity to one another so they act like a single source, thereby increasing overall dispersion and reducing any lobing effect. Furthermore, the chambering of the mid and tweeter lowers the driver's resonance, reducing distortion.

The 3-pound magnetically-shielded center channel has all the same features and technologies as the satellites, except for the fact it employs dual front-firing ports.

Completing the system's bottom-end performance is a hard-hitting compact subwoofer with a front-firing port. It employs an 8-inch driver with a patented Ribbed Elliptical Surround coupled to an efficient 200-watt amplifier. This proprietary design eliminates surround distortion, enabling the subwoofer to play lower with greater output and fidelity.

System setup is fast and easy, and the Take Classic givers users a variety of mounting and placement options via the keyhole slots, threaded inserts and rubber bumpers that accompany the satellites and center channel. These speakers are also equipped with mini five-way binding posts for high-quality connection

Priced at $600 (U.S. MSRP), the Energy Take Classic is now available for purchase exclusively through Amazon.com. In August, Newegg.com will also sell the product.

About Energy®
Established in 1973, Energy has long been a leader in audio research and development as well as in the engineering and manufacturing of speakers. By incorporating custom components and exclusive technologies in each of its designs, Energy takes a nonconformist attitude, delivering no-compromise, high-value speakers packed with pure performance. Energy is owned by Indianapolis, Indiana-based Klipsch Group, Inc., a wholly-owned subsidiary of Audiovox Corporation (NASDAQ: VOXX). To learn more about Energy, visit www.energy-speakers.com.