Energy&reg RC-Micro'Big Ac...e Sound, Small Speakers
New 5.1 home theater system is company's most compact yet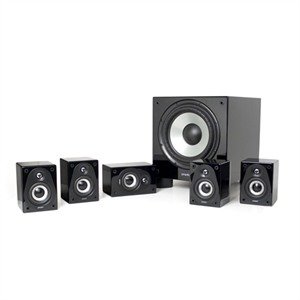 INDIANAPOLIS, IN (August 4, 2008)—Raising Energy's 35-year legacy in acoustic research and development to new levels of performance, the RC-Micro home theater is designed to combine high style and immense sound in a remarkably compact 5.1 speaker package.

According to Energy product manager Ben Burko, the RC-Micro represents a real breakthrough: "Since its introduction, our Take Classic home theater system has been lauded for its performance and minimal size. With these new, smaller home audio speakers, center channel speaker and subwoofer, our engineers have delivered audiophile quality sound from our smallest enclosures yet."
Consisting of four matching speakers for front and surround sound channels, a center channel for highly accurate dialogue and a small, but mighty, subwoofer for amazing bass response, all of the RC-Micro components feature sonically inert MDF cabinets with a high-gloss black lacquer finish.
Standing just 4.7 inches high and weighing slightly over a pound, each RC-Micro SAT speaker has a .5-inch hyperbolic chambered aluminum dome tweeter and 2.5-inch high excursion aluminum cone micro-driver. Energy's proprietary Convergent Source Module (CSM) technology (originally developed for the company's flagship Veritas series) positions the woofer and tweeter in close proximity to one another to act as a single source, thereby increasing overall dispersion and reducing any lobing effect. Each of the components is housed in its own chamber, lowering resonance and allowing higher power handling, as well as eliminating unwanted interaction with each other. "The performance results can only be described as tantric," added Burko.
RC-Micro
Magnetic shielding on the small speakers (and center channel) prevents interference with standard CRT televisions. Offering amazing placement flexibility, the RC-Micro SATs feature a built-in keyhole slot and a &reg-inch-20 threaded insert for wall mounting.
The RC-Micro Center speaker, which provides crisp dialogue and stunning audio effects, has a driver configuration identical to the satellites, ensuring that it is perfectly timbre matched with the rest of the home audio system to deliver incredible midrange accuracy and low distortion. It also includes gold plated push connectors for optimal connection and long-lasting performance.

Deep, resounding bass makes movies come to life. The RC-Micro's surprising low-frequency performance comes from a hard-hitting 240-watt ESW-CS8 compact subwoofer with a down-firing port. The 8-inch injection-molded woofer utilizes the patented Ribbed Elliptical Surround design, which eliminates surround distortion and enables the subwoofer to play lower with greater output and fidelity for incredibly clean bass effects.
"Whether it?s the explosive effects of your favorite action film, your favorite music or the dynamics of a video game soundtrack, the RC-Micro's power and performance will amaze everyone. Best of all, although they're totally unobtrusive, when you do notice them, their appearance is every bit as appealing as their sound," Burko noted.
Available in September through the mass and specialty retail channels, the RC-Micro home theater system will be sold at $999 U.S. MSRP*.
*Price subject to change without notice.

About Energy®
Established in 1973, Energy has long been a leader in audio research and development as well as in the engineering and manufacturing of speakers. By incorporating custom components and exclusive technologies in each of its designs, Energy takes a nonconformist attitude, delivering no-compromise, high-value speakers packed with pure performance. Energy is owned by Indianapolis, Indiana-based Klipsch Group, Inc., a wholly-owned subsidiary of Audiovox Corporation (NASDAQ: VOXX). To learn more about Energy, visit www.energy-speakers.com.