Energy Launches Two Entry-Level Subwoofers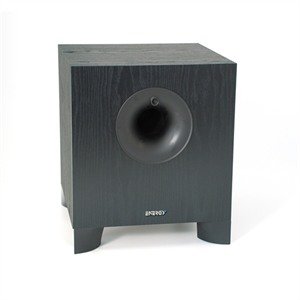 TORONTO, ON (August 28, 2007) — Expanding the breadth of its subwoofer offerings, Energy is introducing the ESW-10 and ESW-8. These two entry-level models are designed to reproduce all the dynamics, punch, and detail of today's complex music and movie recordings.
"Energy is known throughout the industry for developing subwoofers that deliver amazingly smooth low-frequency response," said Ben Burko, Energy product line manager. "So, because we?ve been able to push our acclaimed hard-hitting performance to more affordable price points, more and more people can bring Energy into their homes."
A bass-reflex design with a front-firing port, the ESW-10 employs a 10-inch MPP cone with patented Ribbed Elliptical Surround™. This proprietary design eliminates surround distortion, enabling the subwoofer to play lower with greater output and fidelity. An efficient internal power amplifier enables this hard-hitter to deliver 400 watts of output.
The smaller ESW-8 offers the same driver technology and design as the ESW-10, but instead utilizes an 8-inch woofer and generates 200 watts of output.
Both of these subwoofers feature line and speaker level inputs and a variable low-pass filter that allows for seamless blending with a wide variety of speakers, including Energy's C-Series and Take Series. Both models also have a power mode switch that enables them to turn on and off automatically, based on the presence or absence of an audio signal.
Available in a black ash finish, the ESW-10 and ESW-8 will be available for purchase through the mass and specialty retail channels in September.
About Energy®
Established in 1973, Energy has long been a leader in audio research and development as well as in the engineering and manufacturing of speakers. By incorporating custom components and exclusive technologies in each of its designs, Energy takes a nonconformist attitude, delivering no-compromise, high-value speakers packed with pure performance. Energy is owned by Indianapolis, Indiana-based Klipsch Group, Inc., a wholly-owned subsidiary of Audiovox Corporation (NASDAQ: VOXX). To learn more about Energy, visit www.energy-speakers.com.